OK, that's definitely not a C loom probably an E loom, but I can't read the ECU part number to know for sure where its an E or F loom.
That brown wire with the bullet connector is the switched feed from the white wire in the ignition switch, it then feeds the fuse box to the rest of the bike, except the 20amp yellow fuse which is the main supply for the headlights.
Yes, I would check the earths, as these can throw up strange faults as different systems use different amounts of power. eg Hi/Low headlights.
You said the low beam works so we know the feed to the lefthand switching unit is ok, now you can either check the voltages going to the two relays (we can use the working one for comparison) or hold the relays while throwing the Hi/Low switch and feeling for if the relay is working, this will let you know if it's being tripped or not. Now the White/black is the feed from the battery, and the Red/yellow is the Hi relay tripping voltage from the lefthand switching unit.
On another note, the fuse box is normally held in place by a rubber mount forward of where it is now, and the ECU is mounted where you have the fuse box.
Note the part number is for the UK version and has fewer components in it, also I've shown 2 rubber mounts showing both sides, but there is only one needed.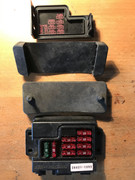 C model layout, your E should be similar. I modded my UK c model for the headlights to come on after the engine is running, which is what yours already does.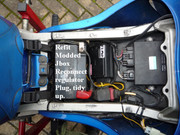 _________________
Just got yourself a ZX-9R, then do yourself and your bike a favour, read this thread the sticky post in General Technical viewtopic.php?f=21&t=28097
Please
will forum members put their bike model letter, & 1 or 2 after their
Profile Location. eg: Your Town
& B1,2,3,4 C1,2 E1,2 F1,2
As all zx9's are all slightly different, and I get fed up having to ask which model & number, as a year may not be accurate.